Best Heart Shaped Purse: Designer and Budget Styles
The 10 cutest heart shaped purse and bags from top brands and affordable alternatives. Uncover the classics and newest styles.
Heart shaped purses are the epitome of cute and girly style. They bring a playful and romantic touch to your outfit, making them the perfect accessory whether you're going out with friends or on a romantic date. While they may seem a bit childish for some, major designers have all crafted their own version of a heart shaped purse that gives these fun accessories a modern and classy style.
Are Heart Shaped Bags in Style?
The heart shaped purse trend has roots that date back to the 1940s and 1950s. These bags were a popular choice among young women emulating the rockabilly style, symbolizing youthful exuberance and a spirit of rebellion.
The 1990s saw a revival of heart shaped bags, with major brands like Chanel releasing their iconic heart shaped purse that is still highly coveted to this day. And here we are in the 21st century, with heart shaped bags still gracing the arms of celebrities, influencers, and fashion lovers all around the world. The heart shaped purse is timeless and definitely still in style today.
10 Best Heart Shaped Purses
Now, let's dive into the heart of the matter – the most popular heart shaped purses out now that are classics as well as new styles, including designer brands and more budget-friendly options.
Designer Brands:
This classy, heart shaped crossbody bag by Kate Spade is made from smooth leather and features the polished spade emblem for a touch of sophistication. It also includes a detachable chain strap allows for versatile wear, whether as a crossbody bag for casual outings or as a shoulder bag or clutch for more formal occasions. Perfect for a romantic dinner date, this heart shaped purse effortlessly combines a feminine style with functionality.
Coach's Heart Frame Purse is a stylish blend of old-school charm and modern beauty that's a top seller for heart shaped bag lovers. It's made from high quality, genuine leather with a sturdy top handle and removable crossbody strap, making it versatile for any outfit and occasion. Its adorable cherry design printed atop the classic Coach logo give it a touch of modern and fun aesthetic mixed with a classic timepiece.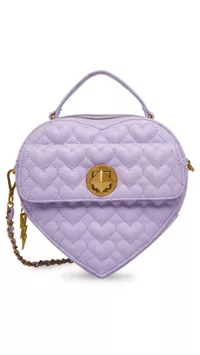 Betsey Johnson takes the heart shaped purse trend to the next level with the Heart Attack Crossbody Purse. Crafted from faux leather, it features charming heart-shaped quilting and Betsey Johnson's signature whimsical touches complete with a convenient top handle and a detachable strap, allowing you to wear it in various styles.
The Radley London Heart Shaped Crossbody Bag in a lovely peach-colored leather is a unique, eye-catching purse. This bag is adorned with intricate floral appliqué and features meticulous leather hand-stitching inspired by the elegant Broderie Anglaise techniques. It's designed for convenience and durability with a secure zip fastening and comes with a versatile chain crossbody strap.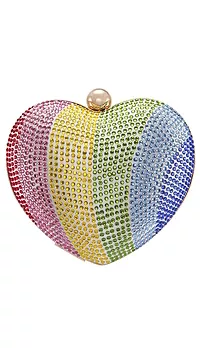 Nina Women's Crystal Heart Minaudiere Bag is a dazzling and super chic heart shaped bag adorned with sparkling crystals. Its compact heart shape offers just enough space for your night-out essentials, while the rainbow design adds a playful touch to your look. Crafted from glass, metal, and synthetic fabric lining, this mini-sized bag includes a flat curb chain with a drop length for added elegance and a secure lift lock closure.
The Kensington Heart Crossbody Bag by Kurt Geiger London, a chic, sexy cross shaped purse featuring their signature crystal-encrusted eagle head on the geo-quilted leather exterior. This heart-shaped bag is designed with a chain crossbody strap for a stylish and practical touch. Crafted with meticulous attention to detail, it includes luxurious lining and is constructed from high-quality, genuine leather.
Budget Buys:
Trendeology Heart Shape Vegan Satchel Crossbody Purse is popular, budget-friendly option for a heart shaped purse. Available in a range of eye-catching colors, it comes in both classic leather and a contemporary see-through design crafted from durable PVC plastic. This trendy purse will add style to any outfit, whether it's for daytime adventures or night-time outings. It offers versatility with its detachable handle and chic chain shoulder strap, all secured by a reliable zipper closure.
Reberomantic Goodbag Heart Shaped Evening Velvet Clutch Purse is meticulously crafted with a sturdy metal frame and adorned with a dazzling rhinestone clasp at the top. The luxurious velvet material exudes a sense of regality, nobility, and femininity, making it a perfect evening bag to feel like a princess. Its detachable gold chain, which includes a handle ring, allows you to carry it as a handbag, clutch, shoulder bag, or cross-body bag.
This Heart Shaped Fuzzy and Furry Bag by Rejolly is made from faux fur material, providing a wonderfully soft and environmentally friendly touch. It's lightweight and super soft, featuring an adorable heart-shaped design adorned with two charming pom-poms. The purse includes a convenient detachable metal chain strap and secures your belongings with a zipper closure.
Shy away from traditional styles with Wisfruit's Mini Heart Shape Evening Clutch Bag, a modern take on a heart shaped purse. This cute clutch bag is made with superior hardware frame construction and has an outline of rhinestone decoration. Its heart shape design is made with a small purse forming one half of a heart and the hard, shaped handle forming the other half. This heart shaped bag is budget-friendly and will be an eye-catching addition to your purse collection.
Related: Spoon Body Shape: Not Quite Pear So What To Wear?
Cute Outfit Ideas For Your Heart Shaped Purse
Casual Summer Chic
Pair your heart-shaped purse with a white t-shirt, jean shorts, and white, chunky sneakers for a relaxed yet stylish look.
Add a denim jacket or blazer for an extra layer and some aviator sunglasses for a trendy touch.
Romantic Date Night
Choose a sexy, forming-fitting silk or satin dress that complements the color of your heart-shaped purse.
Opt for strappy heels or ballet flats, and add some delicate jewelry like rings and bangles to complete the romantic look.
Beachy Boho Style
If you're heading to the beach or a summer event, pair your heart-shaped purse with a flowy maxi dress, sandals, and a wide-brimmed hat.
Add some layered bracelets and a pair of oversized sunglasses for a boho vibe.
Business Casual Twist
Incorporate your heart-shaped purse into a business casual outfit by wearing tailored slacks, a crisp white blouse, and loafers.
The heart-shaped purse adds a touch of personality and femininity to an otherwise stern, formal look.
Edgy Street Style
For an edgier look, pair your heart-shaped purse with distressed jeans, a cropped-tee, and a chic pair of pumps or boots.
Throw on a leather or bomber jacket to complete the rocker-inspired outfit.
Girly Glamour
Wear a pleated skirt, a cute cardigan, and flats for a sweet and feminine ensemble.
Opt for a pink or pastel heart-shaped purse to enhance the girly vibe.
Also Read: